A good book should leave you...slightly exhausted at the end. You live several lives while reading it. -- William Styron, interview, Writers at Work, 1958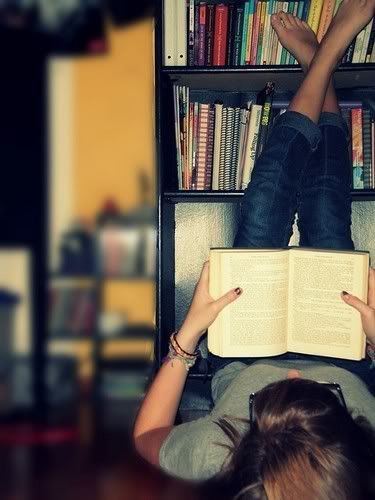 (via)
Some thoughts on reading and books for today:
1.
My Son's Book Shelf: Something He Couldn't Have With a Kindle or iPad
by Martha Ross.
"My son has absolutely no interest in the e-reader idea, which might be a little surprising, given that he loves searching around the web and watching videos on his iPhone. You'd think reading on an iPad would be a natural next step for him. He shook his head at the idea. Like me, he was wondering what would happen to his book shelf. "
2.
English 101: The Perfectly Pretentious Bookshelf
.
"The pretentious bookshelf is a staple of college-aged dwellings that I both love and hate equally. Really, if you have any collection of books on display, you are making a statement about how you want to be perceived. The only way to avoid this is to, I don't know, get all your books at the library? But what does that say about you? I'm poor? The point is, any book that any intelligent person may have read may look pretentious on your shelf; So you might as well embrace the process of crafting the perfectly pretentious bookshelf (ppb.)"
3.
In 'Mountain Lion,' Sibling Love Becomes Loathing
by Sigrid Nunez.
"In 2010, readers everywhere honored the 50th anniversary of the publication of
To Kill a Mockingbird
. In the aftermath of that celebration I'd like to tell readers about another novel that charts the coming of age of a sister and brother, this one set not in the South but out west."
4.
The 100 greatest novels of all time
by Robert McCrum.
"The British love to read and, as the BBC prepares to reveal the nation's best loved books, The Observer has compiled its own list of essential fiction from the past 300 years...Ours is not a list of 'best loved' books. It is less sentimental, and probably less contemporary. It is a catalogue of just a hundred 'essential' titles - as we see it. Of course it is not scientific. Neither Mori nor Gallup was involved. It is partial, prejudiced and highly personal. It reflects whim and fashion. And as we compiled it we began to see actually how difficult - even questionable - the idea of such a unified literary inheritance has become at the beginning of the twenty-first century. Even more agonising are the impossibly hard choices that a list of a hundred forces one to make."
5.
Have you switched off your book?
"These questions are being debated today with the growing popularity of the Kindle, the e-book reader by Amazon. Kindle was introduced to the Indian market in October, but except for the 'early adapters', a term used for geeks or technology enthusiasts who have to try everything new straightaway, the e-book is nowhere as yet like a cellphone, ubiquitous and indispensable."